Introducing the Five Flute SolidWorks add-in!
We're really excited to announce that we've launched our first CAD integration with our SolidWorks task pane add-in! The add-in brings Five Flute's hardware issue tracking platform directly to 3D CAD users where they already work day in and day out as engineers and product designers.
How we got here
As soon as we rolled out the web version of Five Flute last year we started getting questions from our users about how we could connect with CAD. We've seen firsthand that mechanical engineers and industrial designers want more collaboration and visual communication capability directly in CAD. Engineers don't want to log into a separate web app, find the right project, and then describe complicated engineering issues in a place that is completely disconnected from their design source of truth. We heard stories from frustrated engineers on teams that were split between Asana, PowerPoint design logs, and post-it notes, with no clear way to know if design feedback was actually implemented at the part and assembly level.
These conversations led directly to the development of our SolidWorks add-in in just 2 months. Here's how it can help you and your team design, build, test, and deliver better hardware products in less time.
How it works
The Five Flute SolidWorks add-in helps you discover, communicate about, organize, and resolve engineering issues directly inside SolidWorks. It looks like this: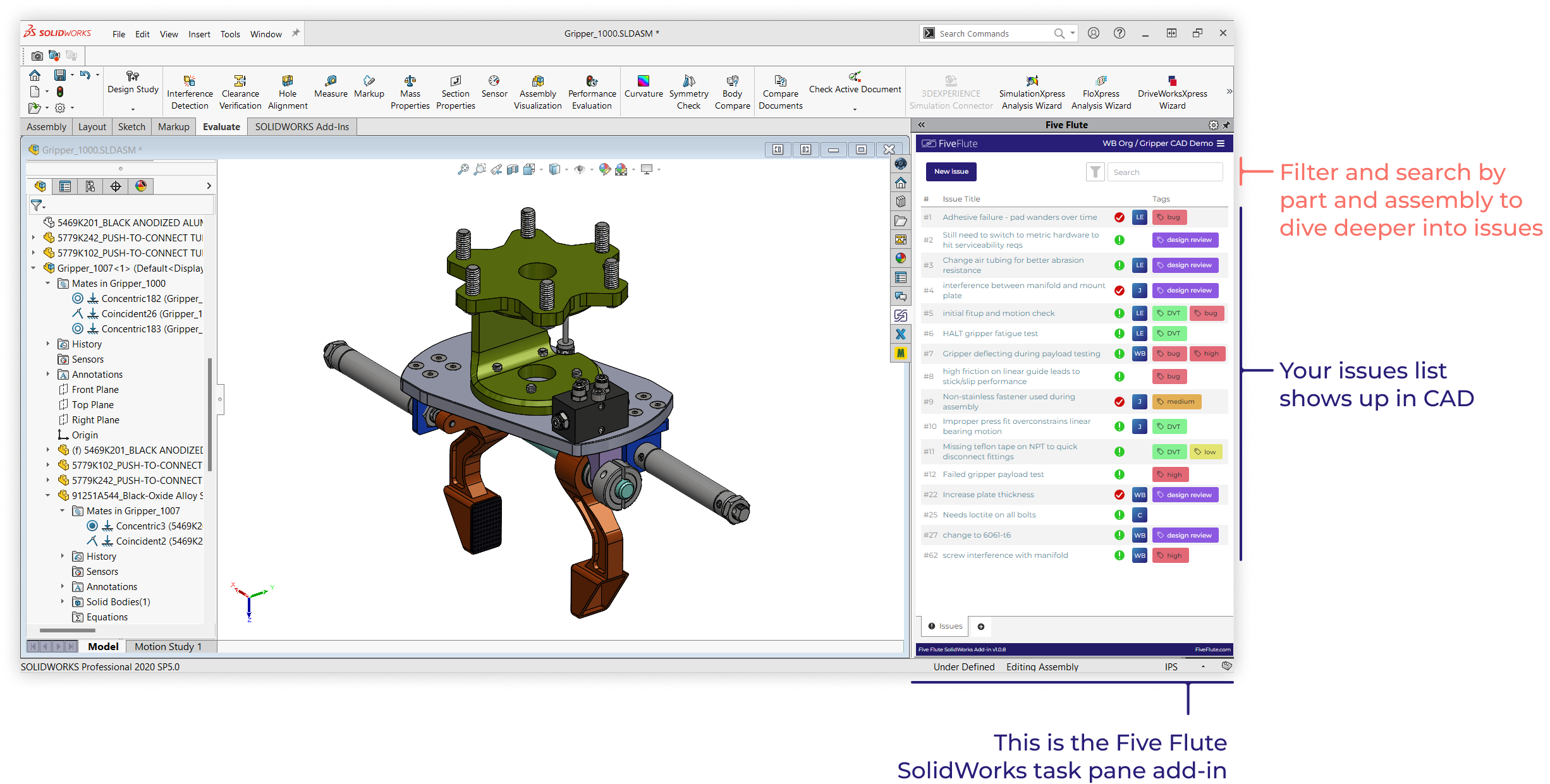 Connected issues
The add-in lets you link issues directly to the parts and assemblies they impact. This means that you never lose track of what aspects of the design are impacted, even as the design evolves.
For example, if someone on your team ran an interference analysis and noticed that two parts cannot be assembled properly, they could easily link those two parts to a Five Flute issue noting the interference.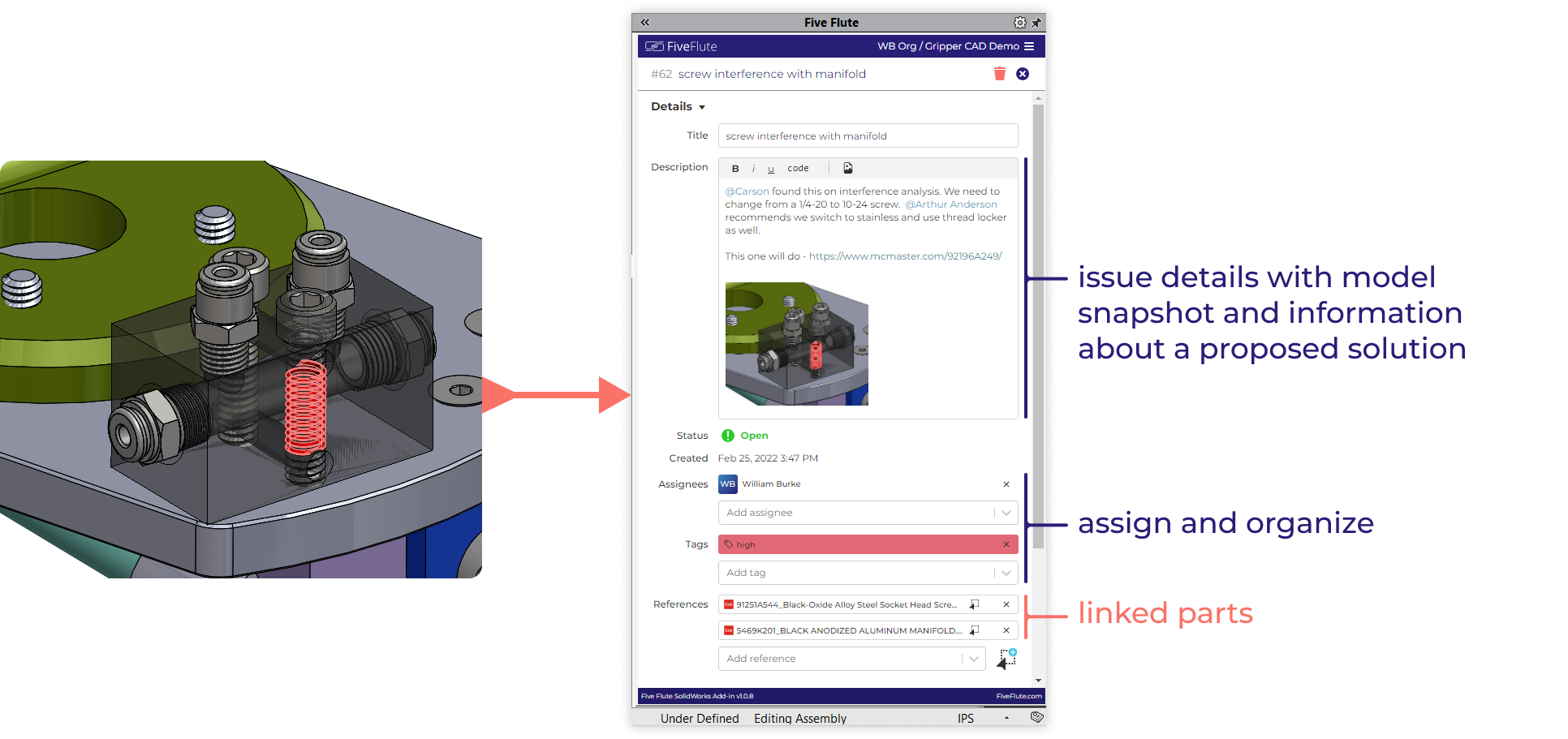 When it comes time to fix any outstanding issues, the entire team can see what parts and assemblies are impacted. Five Flute even lets you highlight problem parts in the feature tree and modeling area by selecting linked parts.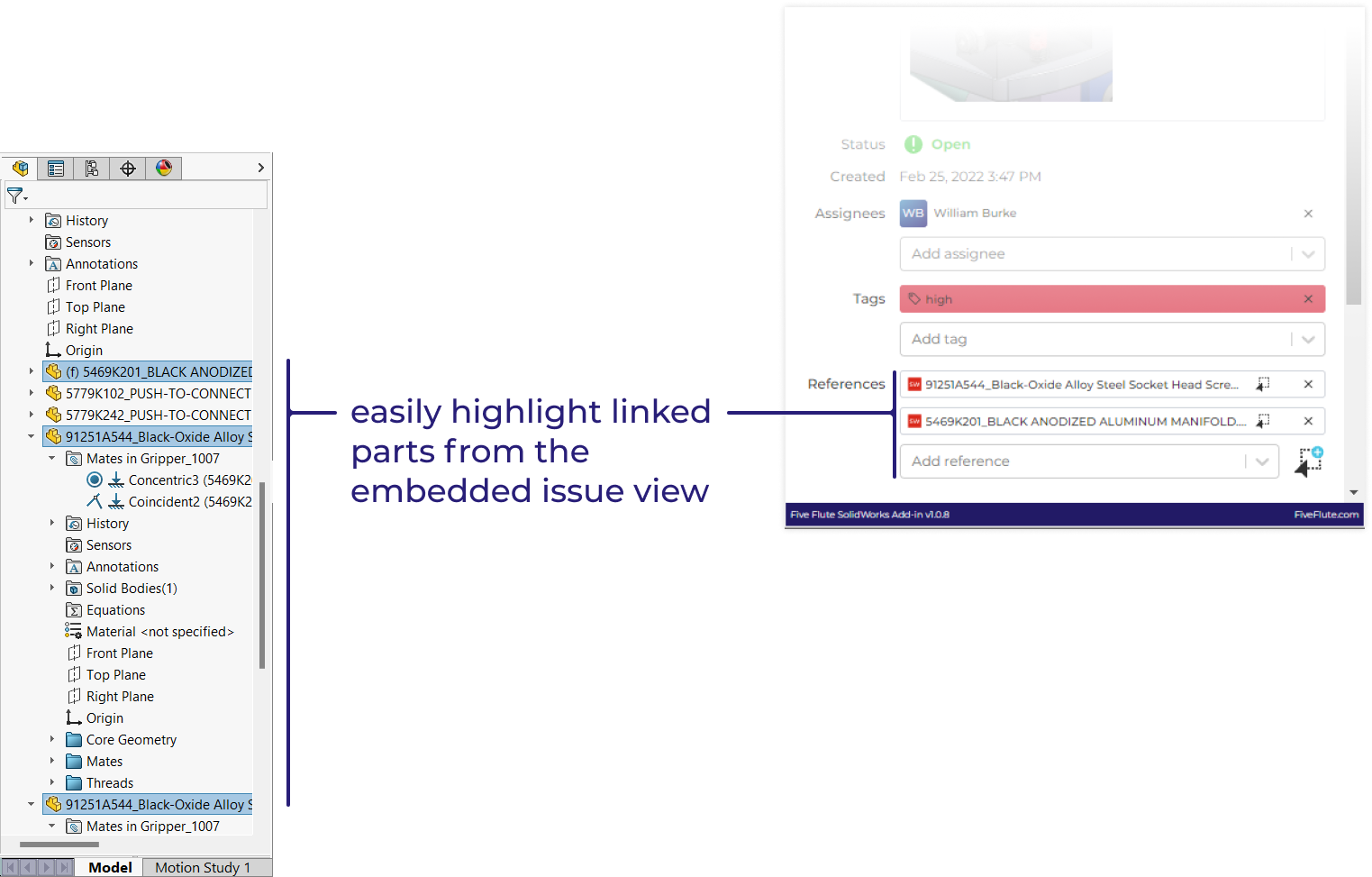 This is great for drilling down into complex assemblies with hundreds or even thousands of parts.
Filter issues by parts and assemblies
Dealing with multiple designers, complex mechanisms, and lots of issues? Not to worry. With the Five Flute SolidWorks add-in, you can filter the entire issues list by assembly to dive into issues that impact those aspects of the design that you are responsible for.
Creating issue via right-click
When you right-click on a feature tree or model item you will now see the Five Flute dropdown menu. This gives you a lightning-quick way to create new issues linked to the parts and assemblies that you have selected.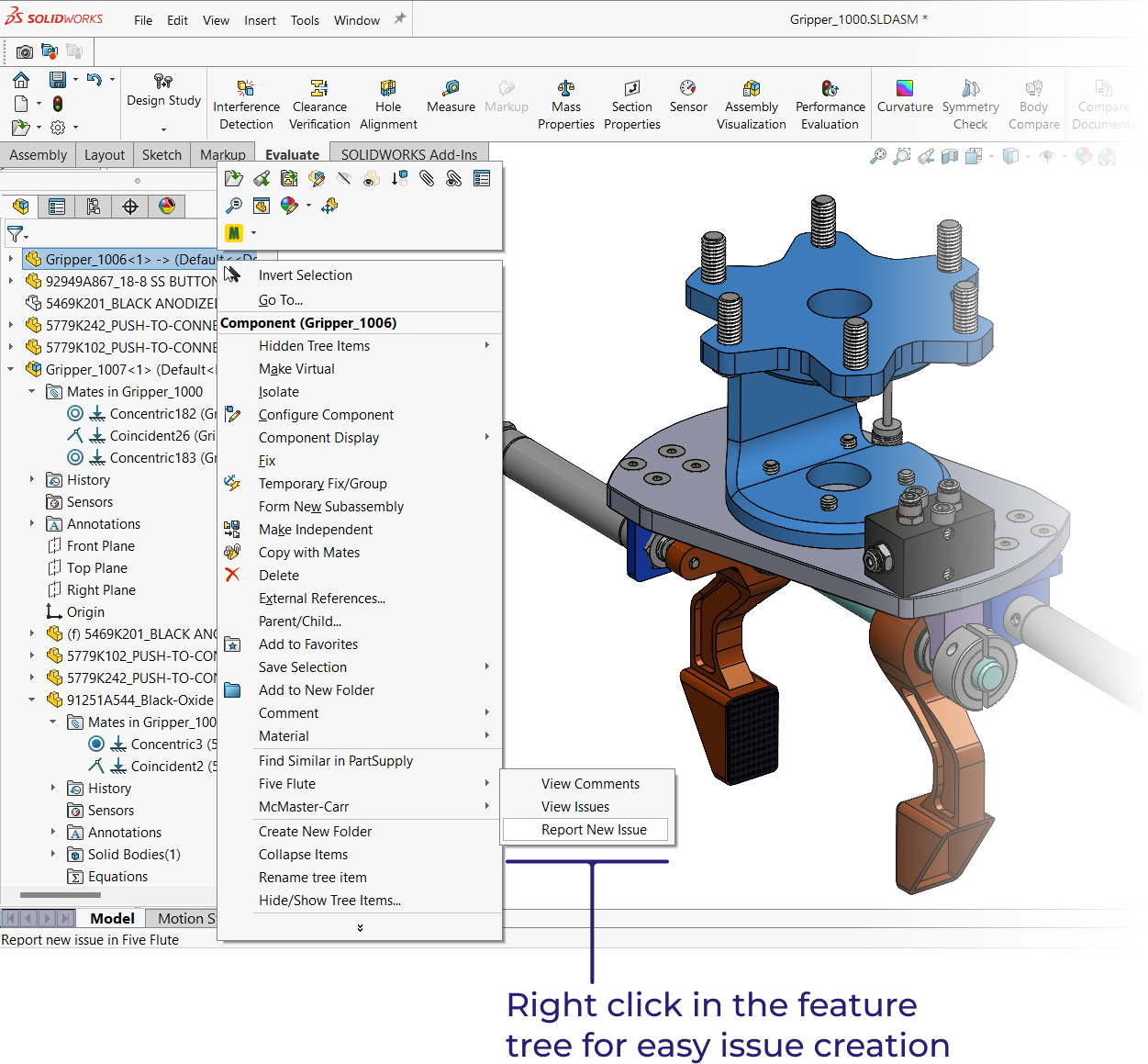 This is perfect for keeping track of any issues discovered during your design process. With just a couple clicks you can capture the model view, describe, assign and prioritize the issue without interrupting your design flow.
Introducing comment threads on parts and assemblies
Sometimes you just want to discuss a design detail instead of tracking it as a formal issue. With comments in Five Flute you can keep this important design communication connected to the parts and assemblies it impacts.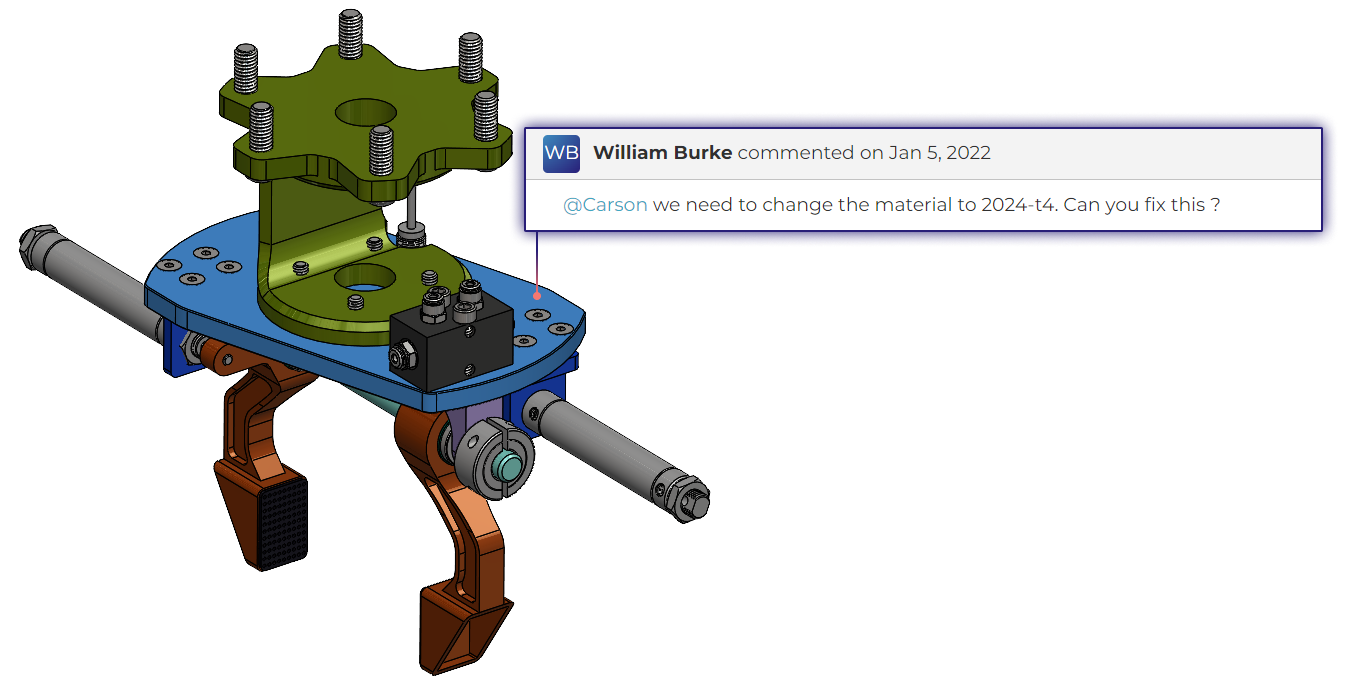 Try it out for free!
If you want to know how to level up your hardware engineering and product design collaboration just request a demo or reach out to our team at demo@fiveflute.com. Thanks for reading!