This article will focus on how best to take advantage of SolidWorks add-ins (or plugins) in your engineering and product development workflows. We won't be covering the full landscape of native and 3rd party add-ins, but will instead focus on increasing your in CAD productivity for common product development activities like concept development, engineering design, prototype building, assembly, and testing. If you have domain specific engineering challenges there may be other add-ins on SolidWorks partner products page worth checking out.
SolidWorks add-in overview
What are add-ins? - native & 3rd party
SolidWorks add-ins (sometimes called SolidWorks plugins) provide extended functionality in CAD. There are native add-ins, developed by SolidWorks, and 3rd party add-ins, which you can think of as applications built on top of CAD. For a quick overview of how to install add-ins you can check out this tutorial video.
Why use add-ins?
At Five Flute we're excited about 3rd party CAD add-ins generally because we think they are the future of product development. SolidWorks is outstanding at 3D modeling, but there are many other challenges involved in engineering. That's where the extended capabilities of SolidWorks add-ins can be helpful. 3rd party Solidworks add-ins can address the challenges that engineering teams face throughout each development iteration, whether they involve design, manufacturing, assembly, team communication or project management.
Our favorite SolidWorks add-ins
We will be focusing on three 3rd party add-ins for SolidWorks: McMaster-Carr, Xometry, and our Five Flute issue tracking and collaboration add-in, and one native add-in: PhotoView 360. The rest of this article will focus on practical applications of these add-ins throughout the product engineering process. We'll be using the example of developing a pneumatically actuated robot end effector in order to provide practical examples of add-in use cases.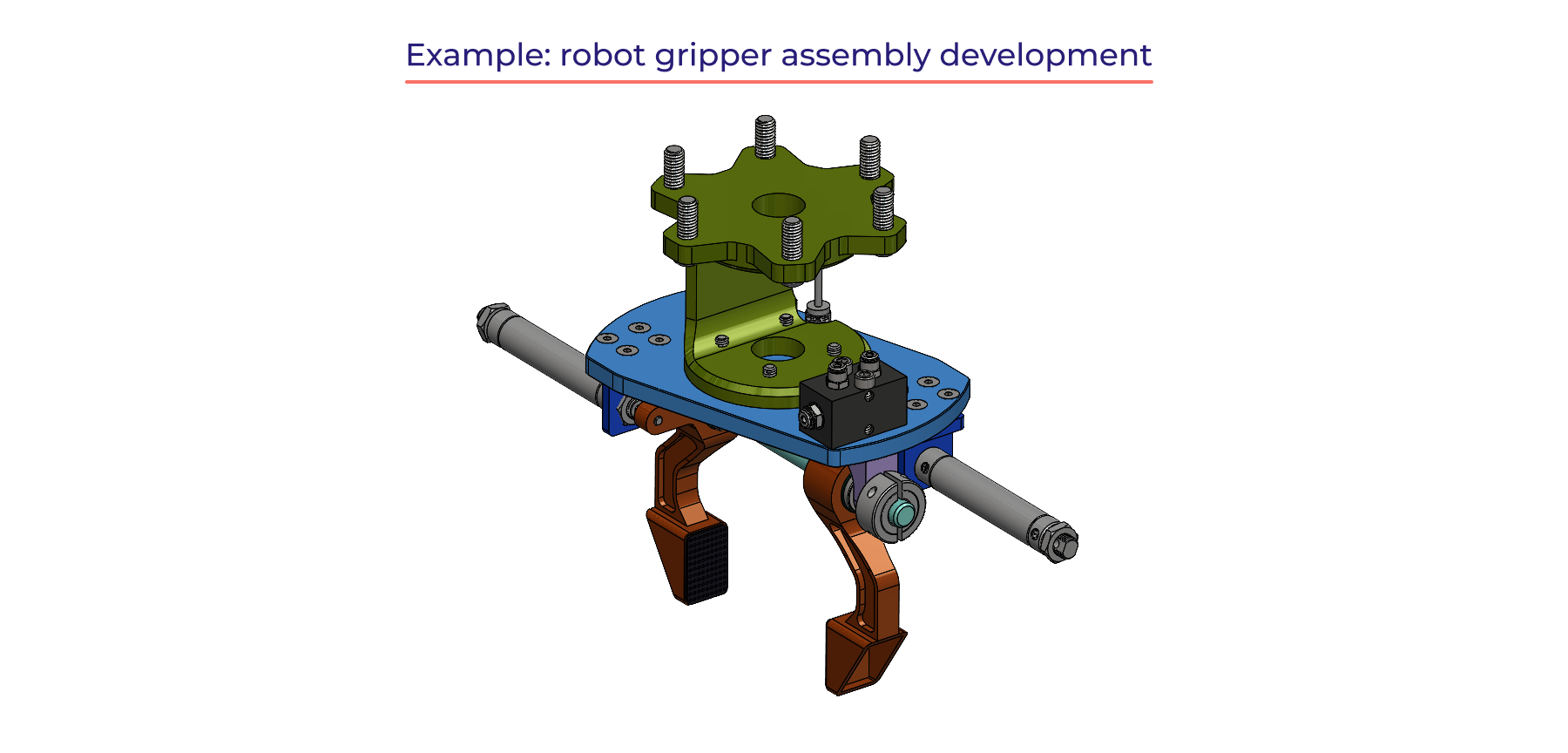 Specifically, we'll be looking at how these add-ins can bring extended functionality to CAD to help you and your team iterate quicker - design, build, and test, all while operating remote first.
How to use add-ins at the concept development stage
Concept development is all about communicating quickly and clearly to evaluating early tradeoffs. Here's how we use these add-ins in the concept development stage.
Initial Cost Estimates. You can use both the McMaster and Xometry add-ins to get accurate cost estimates for your designs throughout the design process. The McMaster add-in autodetects parts in their catalog and allows you to explore pricing for any number of assembly builds.

The preview order button gives you detailed pricing per line item and allows you to quickly build your cart on the web.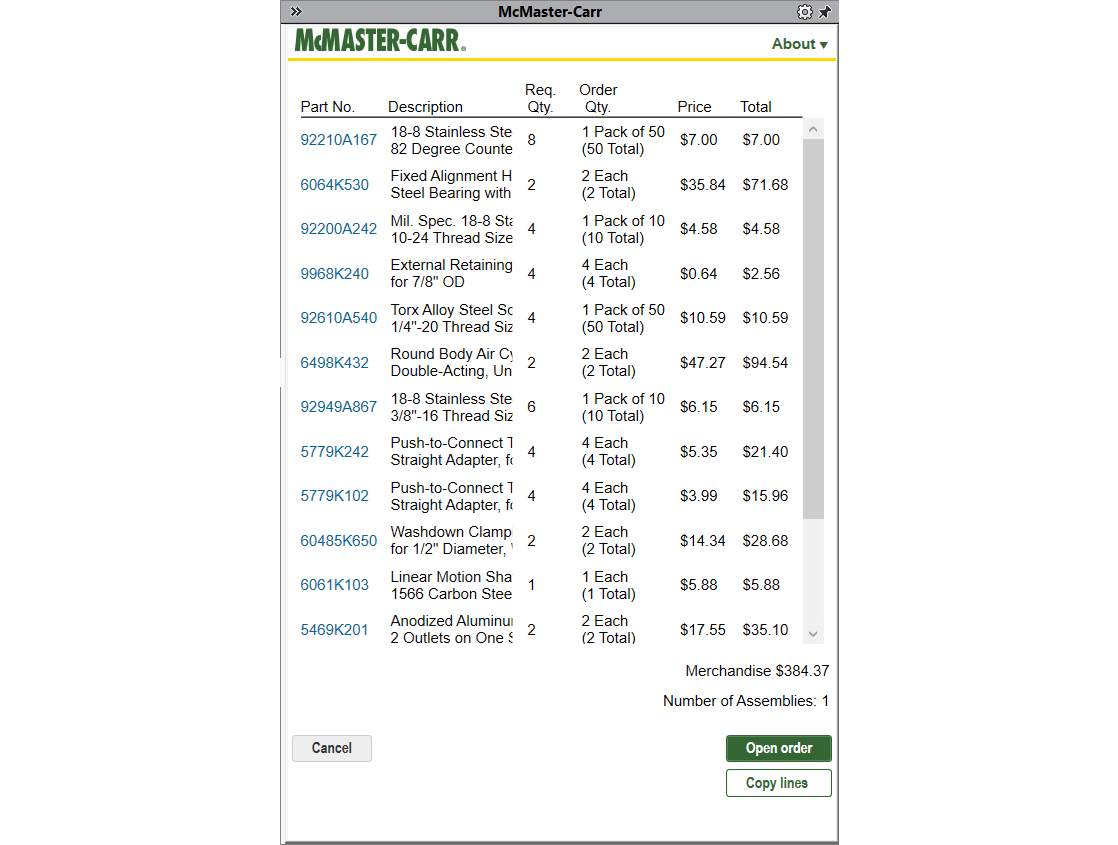 Rapid Communication. Early in the design phase rapid communication is important to design refinement. The Five Flute SolidWorks add-in allows you to quickly comment on parts and assemblies, grab relevant model views, and @ mention your teammates. This is great for working through early design issues or integration points between assemblies developed by multiple engineers. Five Flute sends notifications to all relevant collaborators so that they can respond even if they aren't in SolidWorks.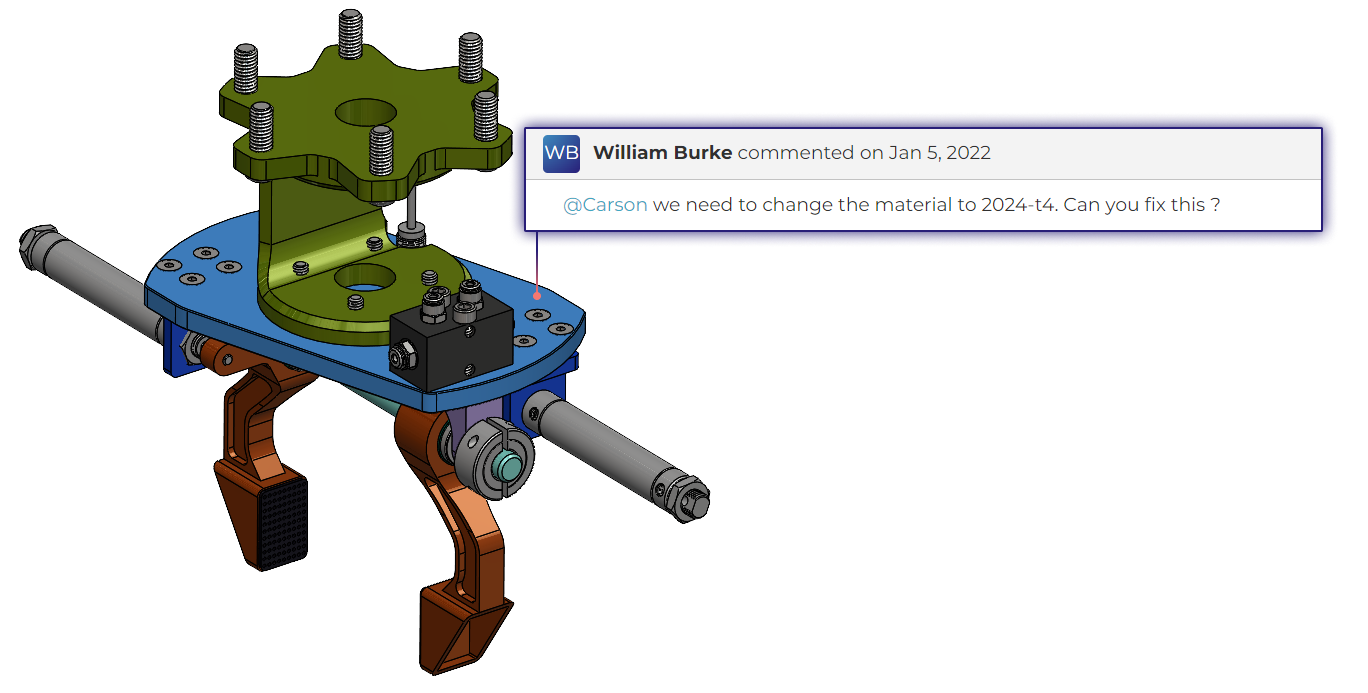 Rapid Prototyping. One of my favorite parts of Xometry's manufacturing platform is their SolidWorks integrated quoting and ordering add-in. This is super useful when you need to get parts 3D printed ASAP in order to properly evaluate concept designs. Using the gripper jaw of our end effector example, you can quickly create a new quote using the Xometry SolidWorks add-in.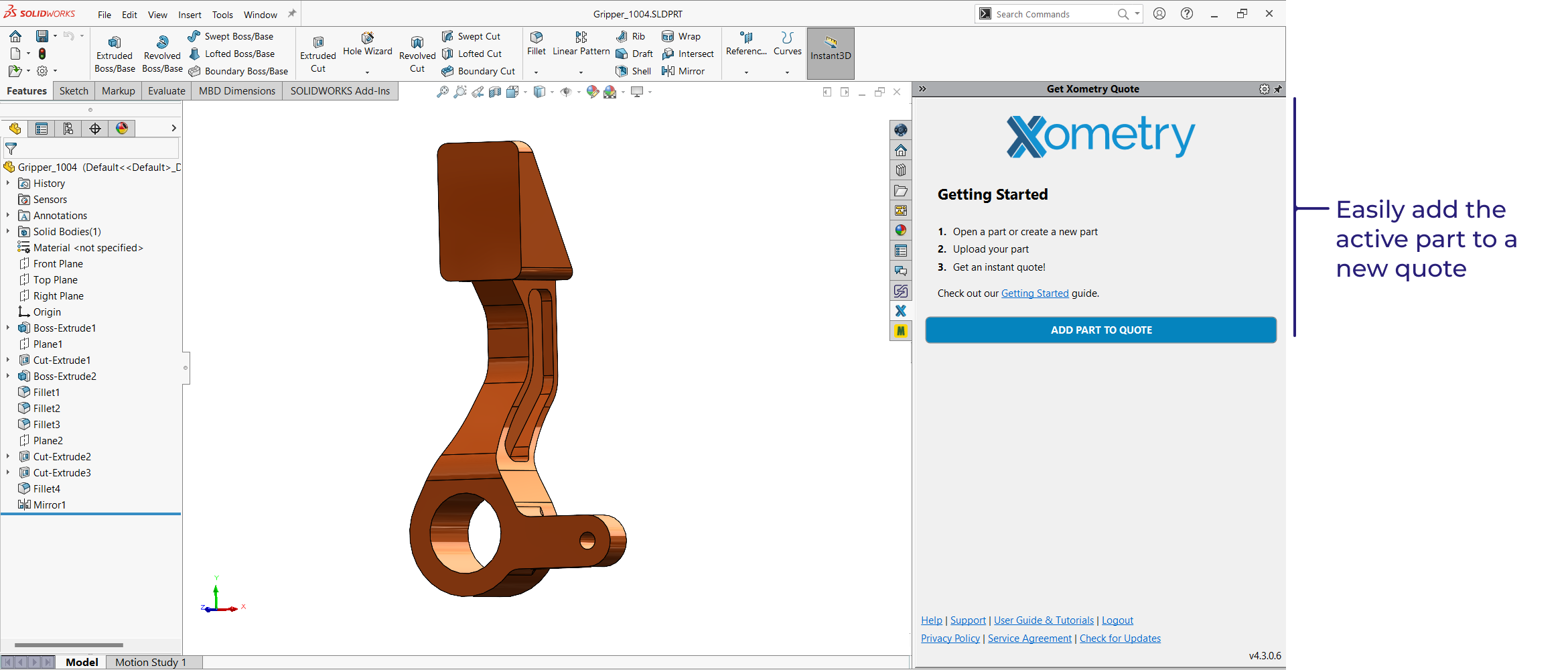 My favorite part of this add-in is how easily you can get real-time pricing and lead time information for 3d printed prototypes.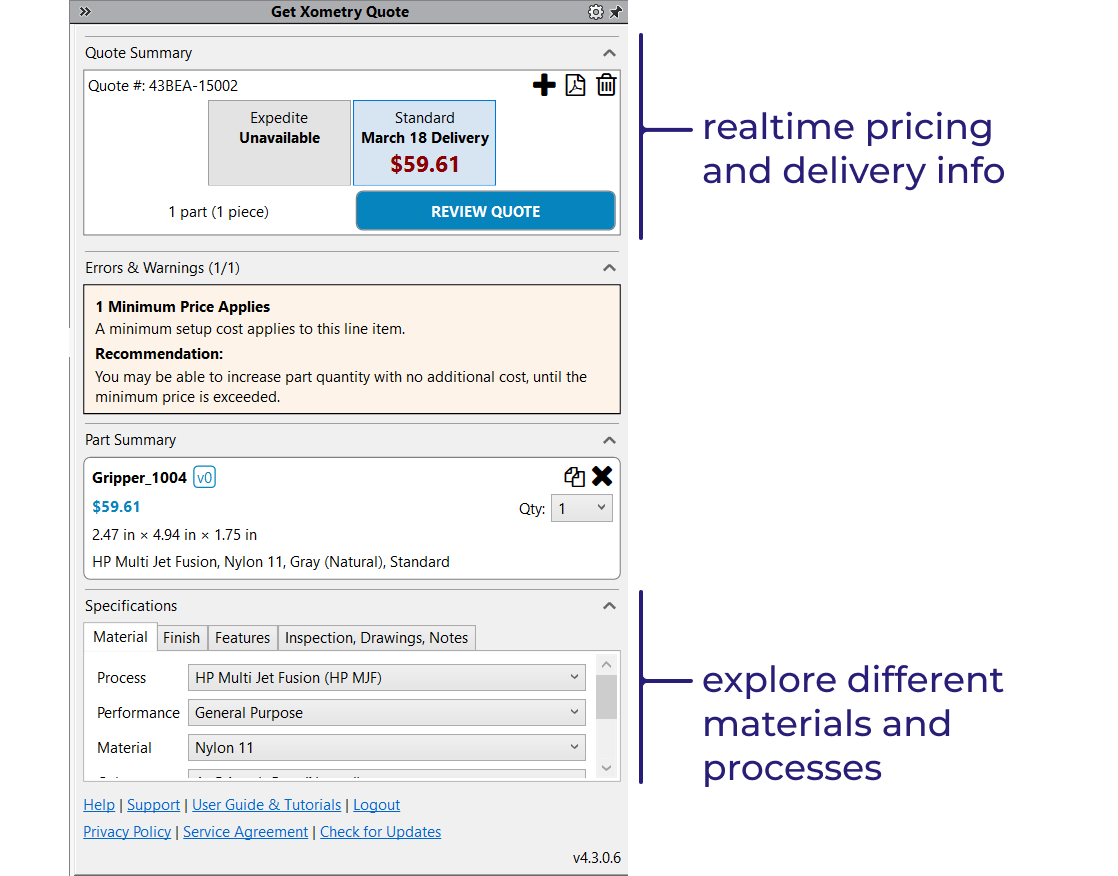 I use the Xometry add-in to see the impact of different printing processes on price and lead time, as well as order directly from CAD. When I'm prototyping I can never move fast enough so this is a lifesaver on schedule driven projects.
Product Visualization. When I need high quality renderings for a presentation or to impress a client, I typically turn to SolidWorks PhotoView 360. This add-in comes free with SolidWorks Premium and can be activated through the Tools > Add-ins menu. With just a few clicks and camera setups you can transform an engineering model in to a photorealistic render for presentations and marketing materials.

How to use add-ins at the design stage
Remote and Asynchronous Design Reviews. With Five Flute you can run a group design review where all participants log issues and link them to the parts and assemblies they impact using the Five Flute web application. When the engineering team returns to CAD to implement the changes, it is easy to filter the project issue list by assembly, assignee, and priority in order to get a quick look at outstanding design review feedback.

This connected and contextual view of issues inside SolidWorks addresses one of the hardest challenges when using other issue tracking tools for product development; how to guarantee that engineers will close the loop on all critical issues.
Rapid DFM Feedback. Xometry's CAD add-in for SolidWorks displays design for manufacturing (DFM) feedback directly in the CAD environment, saving you valuable time in design optimization. I use it to iterate on design features typically with a focus on cost reduction or manufacturing quality. The simplicity of viewing and acting on this feedback in CAD is really valuable for rapid iteration.
Order in CAD. After your design is finalized you can order directly through the Xometry add-in; no PO necessary, just hit the checkout button.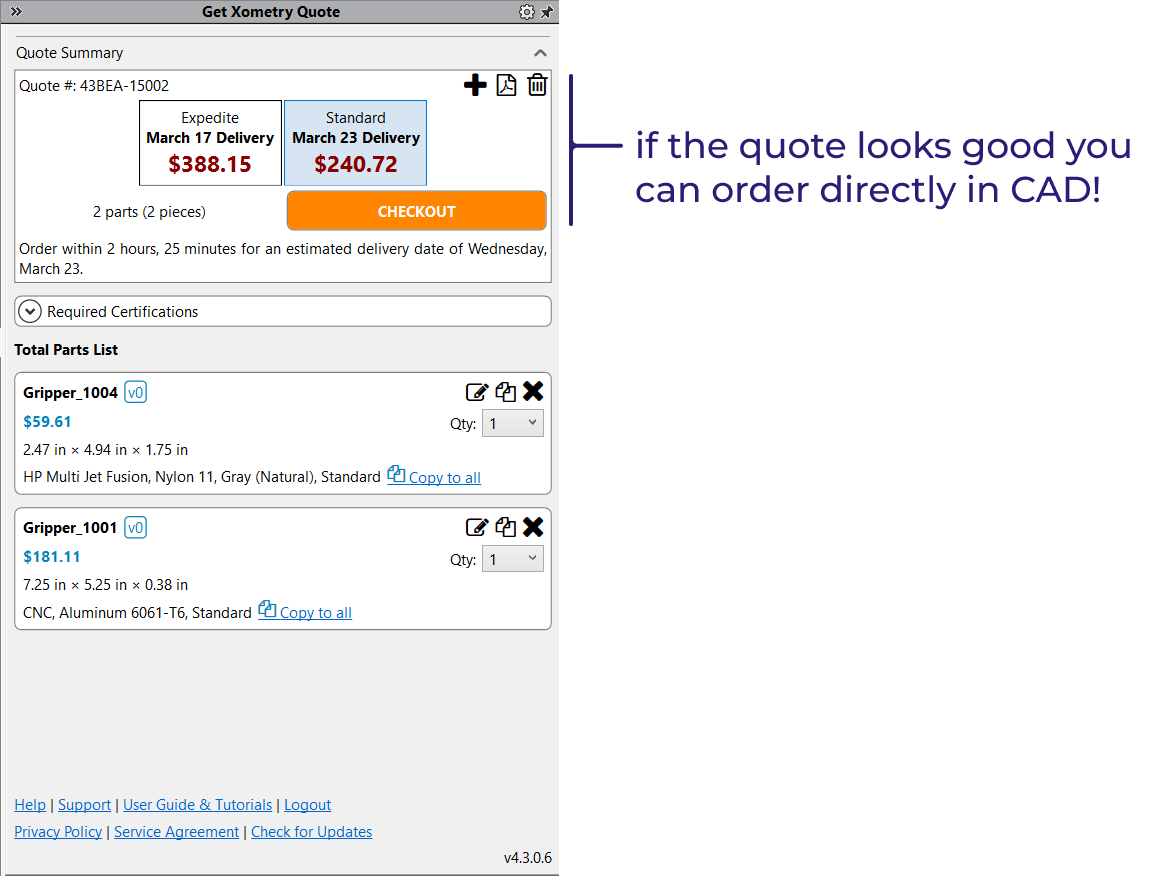 How to use add-ins on your next prototype build
As soon as you start building real hardware, you start discovering issues. The advantage of integrating issue tracking into CAD is how easy it is to create new issues. Just right click on the problem part and select Report New Issue.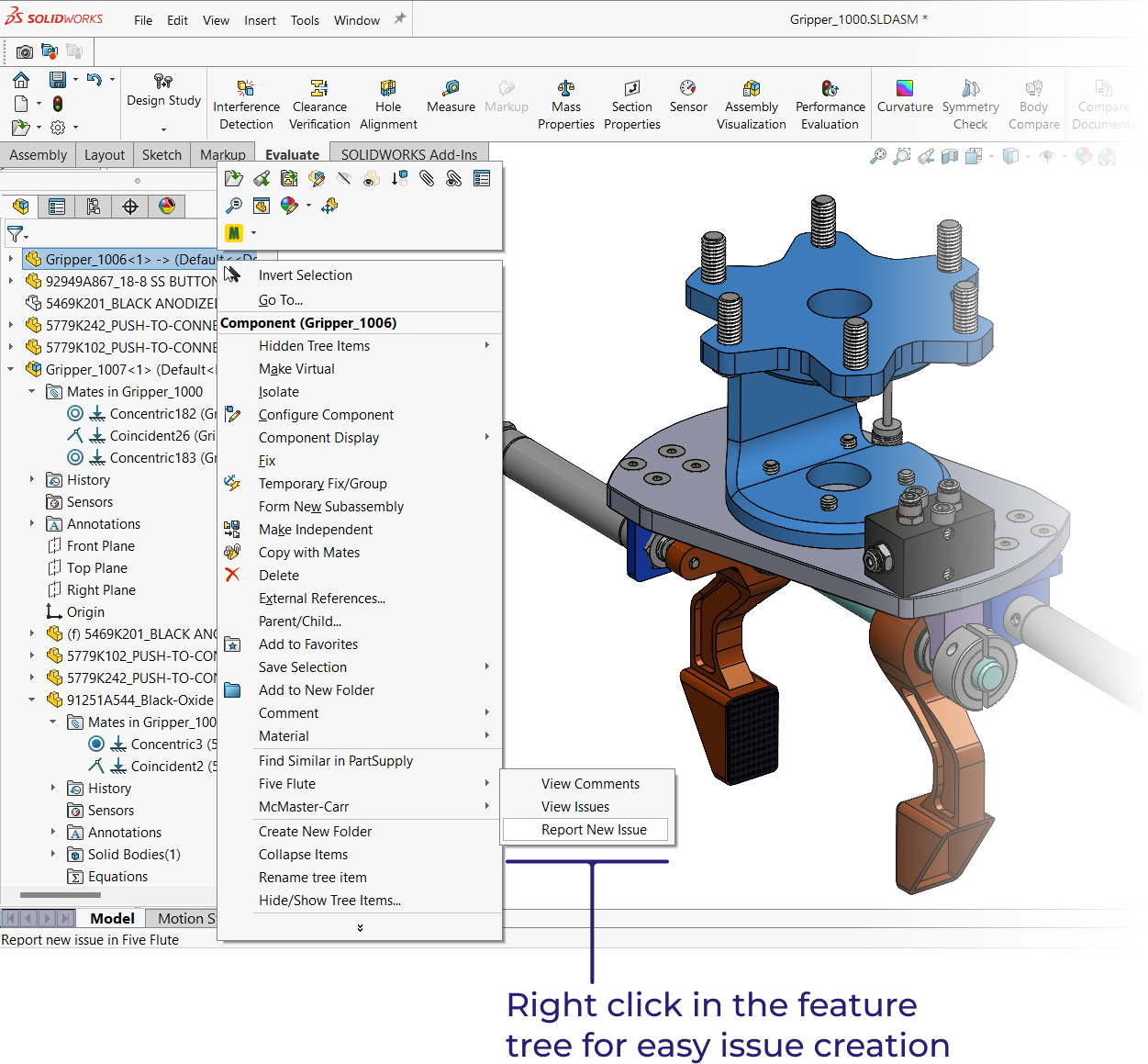 Five Flute gives you the power to associate these issues with the affected hardware (by linking issues to units/serial numbers) and the part designs they impact (by linking to SolidWorks files).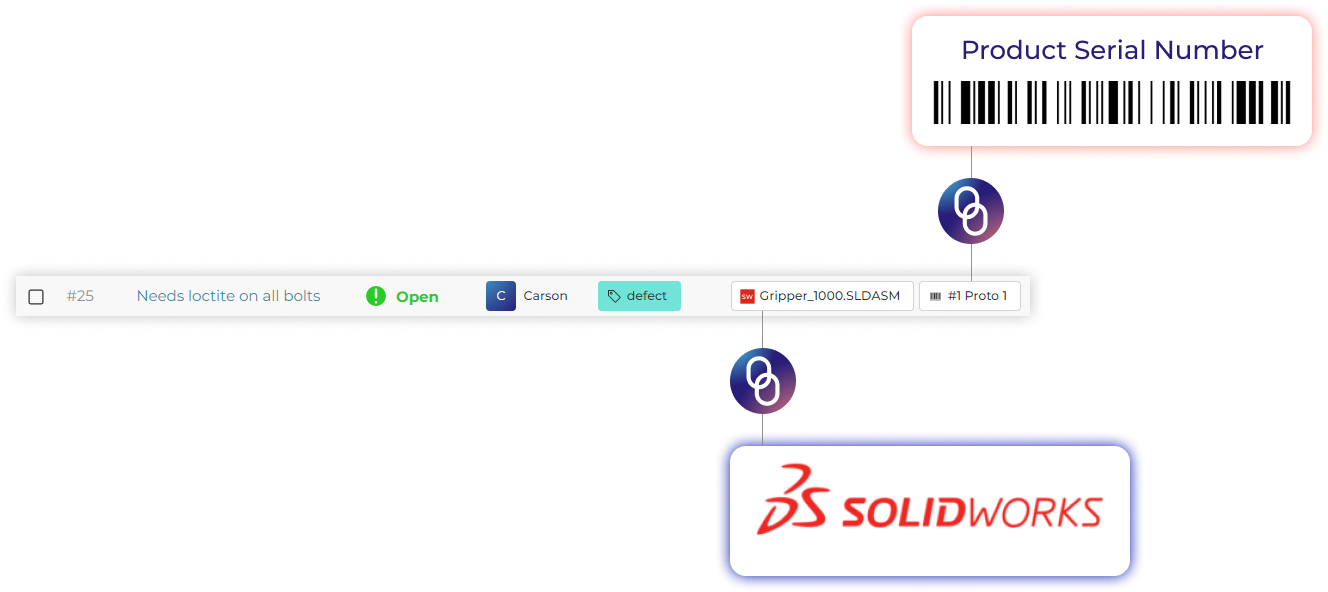 This ensures that real world problems discovered in the shop or on the production line result in meaningful changes to the impacted parts. It's all about closing the loop with high confidence.
How to use add-ins in testing
One of the biggest advantages of using SolidWorks add-ins is how quickly you can capture lessons learned from tests and translate them into design improvements. Again the CAD integration makes it easy to close the loop and not drop the ball. Often times I'll find a mistake in a purchase part specification and the McMaster add-in allows me to quickly replace and reorder components so that my CAD model stays accurate. The same thing applies to custom parts with the Xometry add-in. Quick adjustments to part geometry can be made and then a new set of quotes or orders can be created from within SolidWorks. With the Five Flute add-in any major defects discovered through testing can be recorded at the part and assembly level with minimal overhead. With these issues so visible in SolidWorks, it's much more likely that your team will close the loop and address them.

This iterative workflow applies not only in testing, but in all aspects of development where issues are discovered, recorded and discussed with the team, and then rapidly translated into design changes before releasing parts for manufacturing. For individual engineers, the ability to do all of this work inside CAD is unbelievably valuable and practical.
Five Flute - Next generation collaboration for hardware product development
If you are a design engineer or technical project manager and you want to design better products in less time, consider Five Flute. It's the fastest way to share, review, and improve your engineering designs. From engineering drawing reviews to 3D design reviews of complex parts and assemblies, Five Flute is built for modern engineering teams that want to move faster without making mistakes.