If you make prototypes on a tight schedule, you've no doubt turned to an online machine shop or digital manufacturing service when you are trying to meet a deadline. They can be a lifesaver when you are in a pinch, or if you don't have local machining capability. In this article we're going to compare 5 of the most prominent U.S. based digital manufacturing companies that offer CNC machining services: Protolabs, Xometry, FastRadius, Fictiv, and Fathom.
The goal of this article is not to determine which service is "best", but rather to orient designers and engineers to the landscape of U.S. digital manufacturers by focusing on the pros, cons, capabilities, and primary focus of each provider so that you know who to turn to to meet your project's specific needs. Additionally, we submitted a test part to understand how actual quotes compare with the advertised capabilities of each provider. In this head to head comparison we also examine the part size range on offer, ITAR vs non-ITAR capability, a subjective assessment of user interface for design for manufacturability (DFM) feedback, in addition to as-quoted price and lead times.
Overview of U.S. digital manufacturing landscape
Protolabs

Protolabs delivers one of the fastest custom CNC machining services in the market, typically in 1-3 days, making it an ideal choice for rapid prototyping. Protolabs does not deliver instant CNC quotes, but they often providing interactive quotes within hours which is suitable for most projects. The user interface is fairly intuitive (but not beautiful), making it a good fit for businesses of all sizes. As for tolerance, Protolabs' standard lies around ±0.005", which is respectable. In our experience at Five Flute, they often produce parts with much better accuracy and precision than ±0.005" but sometimes rework is required. Additionally, their part size range is comparatively limited, catering mainly to small to medium-sized parts. We think of Protolabs as "Ol' Reliable", with a limited but extremely easy to understand set of capabilities and very fast turnaround.
Xometry

Xometry's key strength lies in its powerful AI-driven quoting system, which can provide instant quotes. They also boast a vast network of manufacturing partners, which allows them to offer a broad part size range. Xometry offers a typical tolerance of ±0.005" which can be tightened to ±0.002" (or better?) on request. While Xometry's turnaround times are generally competitive (typically within 5 days), it might lag behind when compared to Protolabs' rapid delivery. Xometry's user interface is user-friendly and efficient, designed to cater to both beginners and experienced users.
Pro Tip: With their huge network and easy quote configuration its easy to understand price/turnaround tradeoffs early in design. We've used Xometry to develop BOM cost estimates by bulk submitting parts for quote across a range of processes.
FastRadius

FastRadius offers a wide range of CNC machining services and stands out with its ability to handle larger part sizes, making it ideal for industries like automotive and aerospace. They offer a standard tolerance of ±0.005" and boast an impressive turnaround time, with most orders being completed within a week. FastRadius' user interface is clean and straightforward, though their lead times can get longer as part complexity rises (as you'll see in our head to head comparison).
Fictiv

Fictiv differentiates itself with an ecosystem approach, focusing on quality, speed, and customer service. Their tolerance capabilities are impressive, with standard tolerances of ±0.005" and even tighter tolerances upon request. However, Fictiv's turnaround times can vary widely depending on complexity and quantity, generally ranging from 3 to 7 days. The user interface is very intuitive and is by far the most attractive. Fictiv has a broad and capable network of domestic and international suppliers, and their quote speed is instant for most parts. Unfortunately, they are not ITAR compliant (but they do have significantly faster and cheaper overseas manufacturing capability). Overall they have focused more on platform technology and UI than other competitors.
Fathom

Fathom focuses on advanced CNC machining services, including 5-axis milling, touting extremely high precision with tolerances of ±0.001" (or better) and a focus on overall quality. Clearly they are angling to be the go-to choice for industries requiring ultra-precision parts. Their turnaround times are also competitive, generally around 5 days. However, their quote speed may be slower than others, typically taking up to 24 hours (or muuuuch longer as you'll see in our quote comparison).
Head to head U.S. digital fabricator comparison and test quote
ITAR vs non-ITAR
If you are working on sensitive technology you've likely encountered the constraint of export controls. Only certain machine shops are capable of dealing with ITAR restricted technology, and digital manufacturers are not exempt from these requirements. Not all of these providers can deal with ITAR restricted components. Here's a quick comparison for all you aerospace engineers out there!

Maximum part size
Each digital manufacturer relies on a set of technology that underpins their manufacturing offering. For example: Protolabs owns and operates only certain machines that work with their toolpath generation technology (typically HAAS mills), while Fictiv and Xometry maintain networks with a broad range of machine sizes. Here's a quick comparison of maximum part size for each of these digital manufacturing services.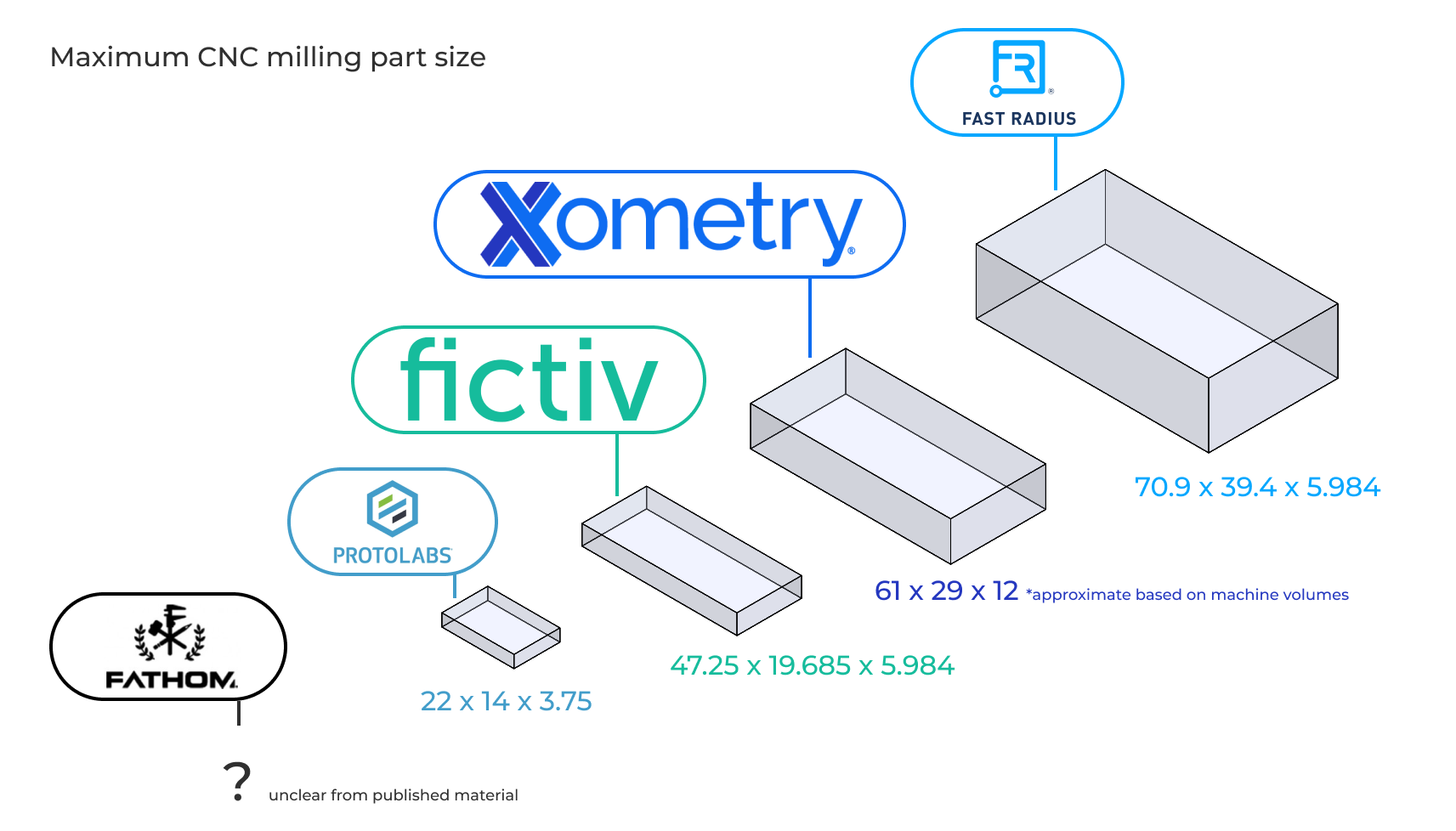 Note: At the time of publishing we were unable to determine what part sizes Fathom is capable of manufacturing from publicly available materials.
Test part
For fun, we designed a machined part of moderate complexity that is typical of a 5 axis/3+2 machining setup. We submitted this part to all five services to see what the quote process is like, as well as to understand how parts are configured, what turnaround and pricing is for an actual part (as opposed to advertised), and what the user experience of each platform is.

Note: This is an extremely non-scientific test! It does however reveal some of the differences between the stated offering of each digital manufacturer and their actual capability on a real part. (Plus it was fun 🙂)
Design for manufacturability and user interface
All of these providers except for Fathom have an embedded 3D viewer with some integrated DFM feedback capability. In this test we did not compare the quality of the DFM feedback rigorously, but we did get a subjective sense for user interface. Overall, Protolabs is able to provide extremely accurate and specific DFM feedback with a rock solid (but not super beautiful) UI. They can do this because they operate the machines that manufacture their parts (instead of curating a network). Both Fictiv and Xometry have very solid DFM and quote configuration interfaces. Fictiv tends to focus a bit more on the DFM side and has a beautiful UI, while Xometry is the most flexible for comparing different quote options. With Fast Radius, it was a bit more clumsy to figure out how to configure quotes and it seems like there is less overall flexibility in choosing lead times and other parameters. Fathom's system for configuring parts is easy, but there is no embedded 3D capability. Instead they rely on manual interactions for quotes and engineering/DFM specific requests.

Quote comparison
Here is a comparison plot showing how these U.S. digital fabrication providers stack up on our five axis test part.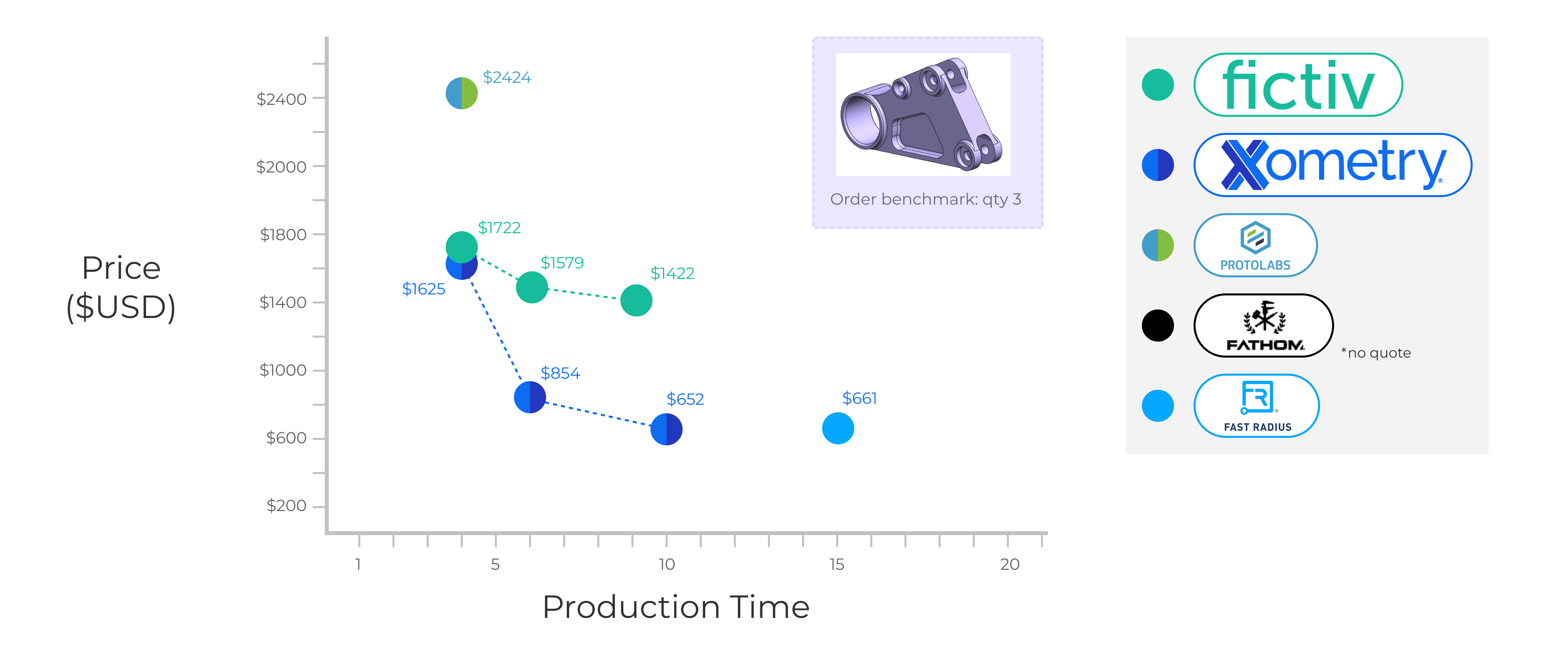 Note: at the time of publishing (11 days after part submission), Fathom had not furnished us with a quote or reached out to discuss the part.
Takeaways
In conclusion, each of these five U.S. based digital manufacturing providers offers a unique blend of strengths and capabilities, with no one-size-fits-all answer. Your choice should align with your specific requirements: Protolabs for rapid turnaround in small part sizes with no tight tolerances, Xometry for instant quotes and broad part size range, FastRadius for handling extremely large parts, Fictiv for its convenient and user friendly ecosystem approach with a good balance of capability and speed, and Fathom for high-precision needs.
Got anything to add to this article? If you are an experienced engineer that uses these services, we'd love to understand your perspective! Send us an email at support@fiveflute.com and let us know your thoughts. Cheers!
Related
First Principles of Manufacturing: CNC Milling Tolerances
Ultimate Guide to Tolerance Analysis